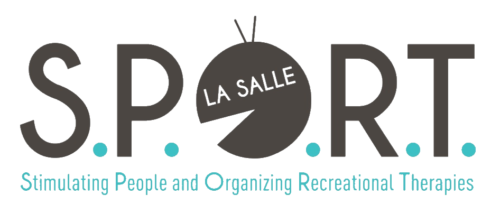 A room of physical adapted activities (APA)
The S.P.O.R.T. gym welcome adults with a motor disability to practice physical activity adapted to everyone.
It may concern people with spinal cord injury, cerebral injury or neurodegenerative disease.

Every person registered can practice between 1 and 5 times a week, booking the session before on the website. The sessions are individual, the APA teacher makes adapted programs according to the goals, the capacities and the needs of the person. On one hour of session, there are 7 people maximum.

Our APA team is attentive of the persons, they realize an individual follow-up to help each person achieve his/her goals.

Beyond the performance, our persons come to find the pleasure of practice again,  to surpass themselves, to meet new people et take care of themselves.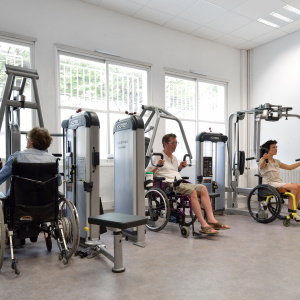 This activity can have different goals according to the person : strength increase, maintenance, mobility, autonomy…
Many tools are available : bodybulding machines, handbike, rowing, little equipment… 
Functional electrical stimulation
Stimulation of the paralyzed limbs with physical activity, creating mobility in the lower part, blood activation and muscle strengthening.
Many tools are available : MOTOmed, Bioness orthesis, Bluetens stimulator…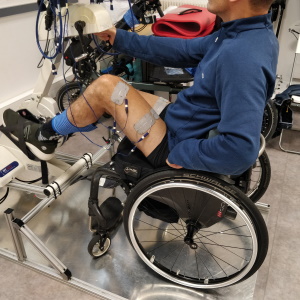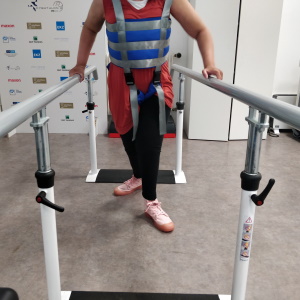 Balance and coordination exercizes to improve the locomotion et the moiblity of the lower limbs.
Many tools are available : parallel bars, walking harness, step, cone…
Circuit of muscle development with adapted rythm and exercizes according to the person's capacity.
Many tools are available : rack, rope, wallball, medecin ball, weights…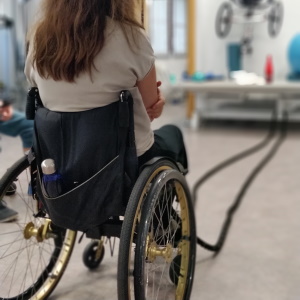 The ANTS association adopted a mission to create the missing connections between sports and handicaps. As a primary objective, the association aims to make accessible physical exercise to people affected by a spinal cord handicap.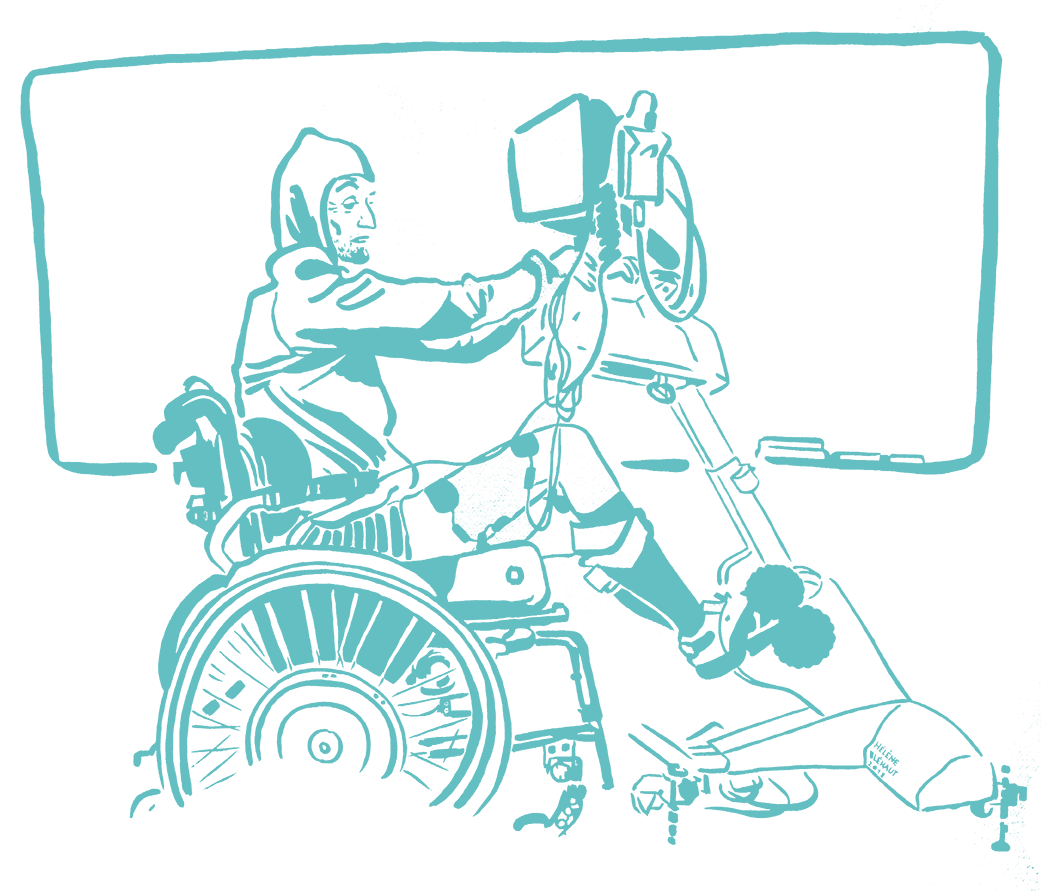 These physical transformations also ease daily movements (Guiraud 2014), similar to transfers. Physical activity also brings to spinal cord injured a reduction in pain complaints, an improved mood and well-being by preventing disorders such as anxiety, depression and isolation. The activities, individual or grouped, and most often recreational, ease the process of social inclusion. In hospitals, accessible gyms are open to patients to allow them to maintain regular physical activity. This practice is essential to compensate the absence of daily physical activity due to the handicap, as it allows to avoid the appearance of secondary injuries listed above (soreness, cardio-vascular disorders, etc.), as a result of paralysis.
Once out of hospital environments, it is very difficult for people affected by motor handicaps to maintain daily physical activity, as a result of the absence of venues equipped with accessible devices.
Muscle strengthening devices adapted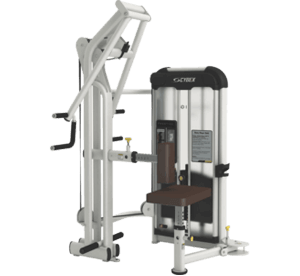 Rowing
Involves back muscles, and participation of rhomboids through arms backwards extension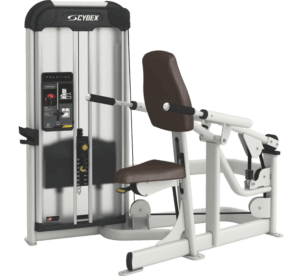 Triceps press
Downwards arm extension for triceps contraction and shoulder flexor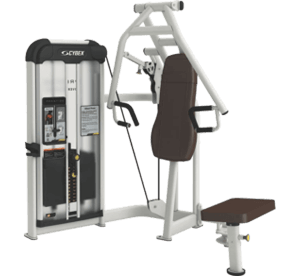 Horizontal development
Involves chest muscles through frontal repulsive force movement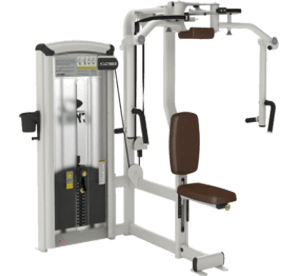 Butterfly
Involves rhomboids through arms repulsion force, with participation of shoulder blade fixers and posterior deltoids
Electro-stimulation equipment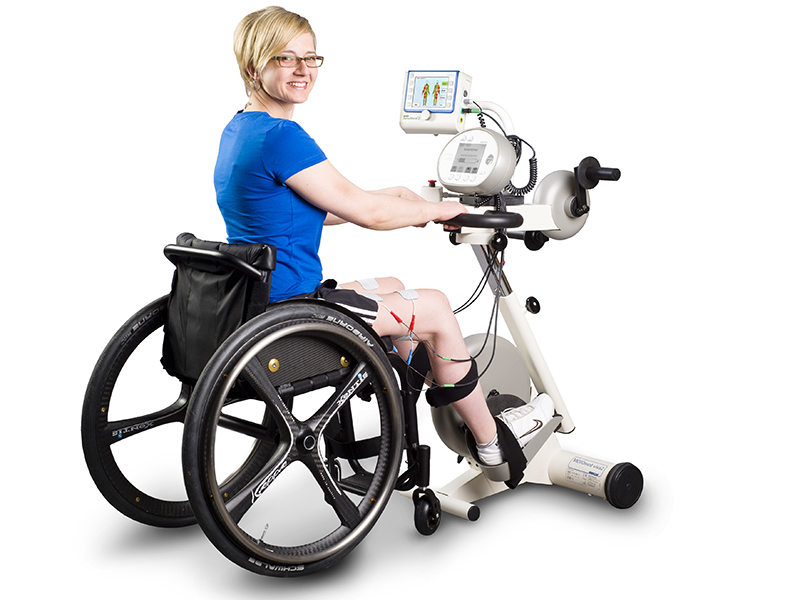 Static bicycle with electro-stimulation
 This electro-stimulation equipped bicycle allows contraction on paralyzed muscles through electric stimulation. The pedalling movement is re-created through non-invasive surface electrodes. An electric current stimulates the motor nerves of the paralyzed muscles in order to provoke muscular contractions, in an order that allows the user to pedal again.
The mobilisation of the lower limbs through the regular practice of electro-stimulated bicycles improves users' health. More details on these benefits.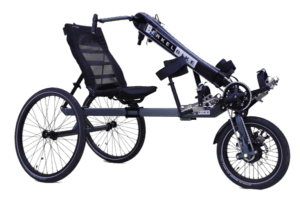 Berkelbike
The berkelbike is an electro-stimulation bicycle that allows to simultaneously pedal with legs and arms.
It is a bicycle that can of course be used outdoor, but we have set it up in our venue with a home-trainer connected to a software that simulates a movement along an actual path with real-life images on a wide screen!
An annual registration to ANTS association give free access to the adapted gym, according to opening hours.
20€
membership 35€ or 45€
/ month 30€
/ year for Handisport licence
Documents to provide:
Registration Form

Medical certificate 

Handisport Licence

Electrostimulation muscle testing 

Membership contract
Rules
Hours: Monday and Friday (10am to 6 pm), Tuesday (1pm to 6pm), Wednesday and Thursday (10am to 7pm), Saturday (10am to 12pm)

Access: 46-14 allée d'Italie, 69007 Lyon

Car park rue du Vercors and place des Pavillons
Metro B Debourg stop
Tram T1 ENS Lyon stop

Contact  S.P.O.R.T
Nicolas Gaye – Gym manager / APA
Phone: +33 6 24 76 47 71

sport@ants-asso.com