The ANTS Association (Advanced Neuro-rehabilitation Therapies & Sports), was founded in 2015 through the initiative of Vance Bergeron, a researcher at the Physics Laboratory of the Ecole Normale Supérieure in Lyon, France. Vance has been quadriplegic following a bicycle accident which occurred in 2013. During his hospitalization at the rehabilitation center Henry Gabrielle in the vicinity of the city of Lyon, Vance decided to establish an association in collaboration with other quadriplegics who shared a same passion for sports and challenges.
As a researcher, Vance has become his own experimental subject. Exploring research literature on the subject of muscular stimulation, he discussed with other researchers, doctors and patients, then associating sports training with technological advances. It is this experience that today, he wishes to develop and share.
Independence
Provide patients with an utmost independence by reaching their fullest functional potential.
Prevention
Reduce secondary injuries due to a sedentary lifestyle
Promotion
Promote dedicated sports events
Support
Financially support R&D for neuro-rehabilitation therapies
A fully equipped gym, for all types of activities
Benefits

Benefits
Regularly maintaining motor activity is recommended by the WHO (World Health Organization) in the CIF (International Classification of Functioning, Disability and Health).
The stimulation of injured limbs through physical activity allows to efficiently fight the risk of secondary complications prone to appear following a spinal injury (Crane 2015).
Including:
Skin hazard (soreness)

Bone demineralization

Blood circulation disorder, resulting in augmented cardio-vascular risk factors or spasticity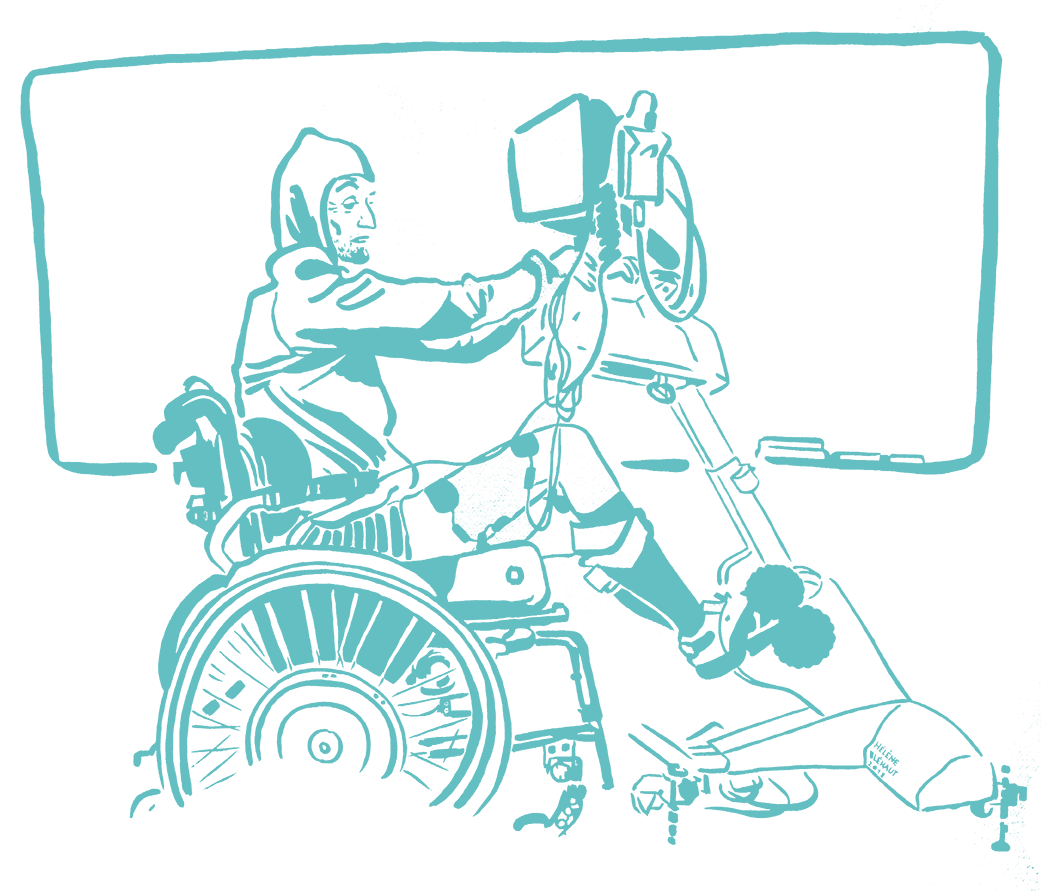 Press
Wishing to communicate with us? We invite you to check out and download or press folder. Do not hesitate to contact us for any enquiry.
Donec rutrum congue leo
Curabitur aliquet quam id dui posuere blandit. Proin eget tortor risus. Donec sollicitudin molestie malesuada. 
Mauris blandit aliquet elit
Curabitur aliquet quam id dui posuere blandit. Proin eget tortor risus. Donec sollicitudin molestie malesuada. 
Curabitur non nulla sit amet nisl tempus convallis
Curabitur aliquet quam id dui posuere blandit. Proin eget tortor risus. Donec sollicitudin molestie malesuada. 
Comment m'inscrire à la salle S.P.O.R.T. ?
Pour devenir adhérent, il faut que les documents suivants soient complétés :
Fiche d'inscription

Certificat médical de non contre-indication à l'électrostimulation et/ou de non contre-indication à la pratique de la musculation à remplir auprès de votre médecin

Licence handisport

Testing musculaire par électrostimulation à effectuer avec votre kinésithérapeute
Quelles sont les bénéfices du sport sur ma santé ?
Les bénéfices de la pratique d'une activité physique sont nombreux :
Meilleure tolérance à l'effort

Amélioration des capacités physiques

Amélioration des capacités cardio-vasculaires et respiratoires

Diminution de la fatigabilité au quotidien

Amélioration du bien-être et de l'estime de soi

Réduction des physiopathologies associées à la pathologie
Quels sont les atouts de notre salle S.P.O.R.T. ?
L'une de nos forces est le suivie et l'accompagnement. En effet, un enseignant en Activités Physiques Adaptées sera présent pour chacune de vos séances pratiques. Son rôle :
Créer un programme adapté à vos besoins, à vos envies et à vos capacités

Prendre en charge, mettre en sécurité et adapter les exercices de manière optimum

Évaluer vos performances
Qu'est-ce que l'électrostimulation fonctionnelle ?
L'électrostimulation fonctionnelle peut être défini comme étant la combinaison entre la stimulation électrique et le mouvement fonctionnel.
Le principe : Un courant électrique stimule les nerfs moteurs des muscles paralysés afin de déclencher des contractions musculaires, dans un ordre précis permettant au pratiquant d'effectuer le mouvement normalement.
L'utilisation de l'électrostimulation présente bons nombres de bénéfices pour la santé :
Lutter contre les complications secondaires
Risques cutanés

Déminéralisation osseuse

Troubles de la circulation sanguine

Perte de masse musculaire

Apparition de spasticité
Comment et quand puis-je m'entrainer à la salle S.P.O.R.T. ?
La salle fonctionnera par créneaux (réservable en ligne) :
Créneaux « électrostimulation » : réservation possible du RT300, du BerkelBike ou du rameur – 1 personne maximum par machine par créneau –  

Créneaux « musculation » : réservation des machines de musculation et du petit matériel (élastiques, haltères, ballons paille) -4 personnes maximums par créneau-
Ces créneaux seront des créneaux de 1 heure. Une personne ne pourra réserver un créneau « électrostimulation » et un créneau « musculation » sur le même créneau horaire. Cependant, elle pourra réserver deux créneaux consécutifs si le pratiquant souhaite effectuer les deux activités (sous conseils de l'enseignant en APA).
Le nombre de réservations par jour sera limité à 1 pour chaque activité.
Horaires :
Du lundi au vendredi
10h – 11h30
12h30 – 13h30
13h30 – 14H30
14h30 – 15h30
15h30 – 16h30
16h30 – 17h30
Contact us
If you want to join, participate or distribute our information, do not hesitate to contact us. We will respond as soon as possible.
46-14 allée d'Italie – 69007 Lyon – France